DO YOU NEED A TAXI?
Simply press
the button
My display will show that a taxi has been requested. You can order multiple taxis with just one Taxi Butler taxi booking device. Just press my button again every time you want to order a new taxi.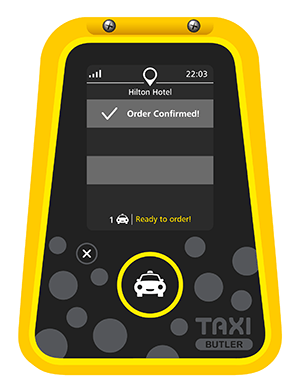 I'LL PROCESS YOUR ORDER IN SECONDS
The Taxi Butler is connected with your dispatch software & will send a taxi right away.

You've pressed my button.
 I'm sending a message to your dispatch software.
The order is processed in seconds and a taxi is on it's way.
LIKE TO KNOW WHEN YOUR TAXI ARRIVES?
I know the time and driver
I'll give you live updates on driver details and arriving time. I give a visual alert so customers know when the taxi has arrived. This saves waiting time and thus improves your drivers efficiency.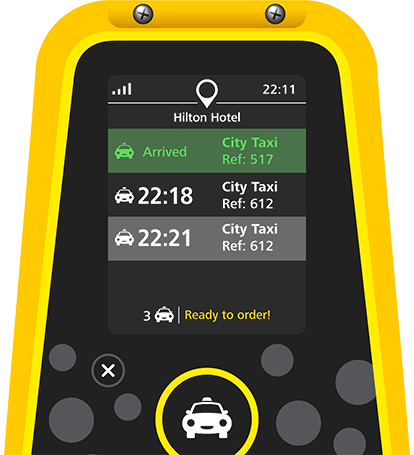 I CAN CANCEL TAXI ORDERS TOO

Just press the cancel button
I will cancel the order and tell the taxi driver not to come
What makes us good?
The benefits of a Taxi Butler taxi booking device
TRY NOW FOR FREE
Risk free trial period of 30 days
To sum up:
We will send you 5 or 10 Taxi Butlers (depending on your fleet size).
We will connect the Taxi Butlers to your dispatch software.
Unlimited access to our management & statistics portal.
Trial the Taxi Butlers with a selection of your customers (hotels, bars & restaurants).
After one month you let us know if you want to continue with our products & service.